Perhaps no industry has been as fraught with change in the last few years as residential real estate. From dramatic market slowdowns in 2020 to ensuing large-scale people movements, bidding wars, rising prices, and climbing interest rates, ever since, we've seen records set and "normal" defined.
As the market has moved toward equilibrium, high interest rates and low inventory make it necessary for agents to perfect their real estate marketing techniques and strategically use what works effectively in today's market.
Let Us Show You What We See
You're not likely to see Trustworthy Title step into the real estate limelight. Unlike you, we aren't out and about, hosting open houses or showing potential homebuyers around town. However, between getting those properties under contract and arriving at the closing table, we provide vital services to make sure the transaction goes smoothly. We conduct title searches, ensure there are no liens on the property, hold escrow, provide title insurance, and oversee the closing. We may be a neutral third party, but we are completely immersed in the transaction.
From our unique vantage point, we cannot help but observe that some agents are back at the closing table week after week, closing sale after sale. It's not just good luck. These agents possess skill sets and tools that set them apart from the rest.
Vital Soft Skills
Successful real estate agents have honed key skills that encourage client confidence and loyalty. They are warm and personable, knowledgeable and competent, making it easy for clients to trust them with the single largest financial transaction most people will ever make.
Remember, residential real estate experts, your identity is your brand, and it's always a worthwhile investment to improve and showcase these skills in your work.
Organization– juggling multiple clients, multiple properties, open houses, listing dates, appointments, and more…not to mention the reams of paperwork and a checklist of tasks for each transaction…all require incredible organizational systems and strategies. Having your work streamlined and orderly will inspire clients' confidence and diffuse their stress as well.
Attention to detail– when clients are preparing to list a house or are shopping for their dream home, pay close attention to the properties. Help them see potential expenses or deal breakers. They are too emotionally involved in the process to see clearly. Provide this service to them.
Communication– Never leave the client wondering where you are or unable to get in touch with you. Walk them through each step of the process and make sure they understand and are ready to move forward.
Proactive approach– Don't leave your client doing all the work. Find out what buyers are looking for and bring them properties to view. Create an aggressive sales strategy for your sellers to help them sell quickly and at top dollar. Initiate the conversation. Follow up. Find answers. Solve problems.
Honest and forthright– Always follow through on your promises, chase answers to queries, and warn clients if a particular property is going to be a disaster or a new infrastructure project is in the planning stages.
Relevant Real Estate Marketing
With the knowledge and interpersonal skills that make you indispensable in residential real estate transactions, it's time to look carefully at your marketing strategy. In this day and age, your online presence is everything. Sure, having a website is helpful, and you must have all of your properties on the MLS, but these are basic standards. Effective real estate marketing requires staying abreast of current technology and using it fully.
Social media– Numerous social media platforms exist, but your presence on the big four, Facebook, Pinterest, X, and Instagram will make the biggest impact. It's not enough to create a profile and let it idle. Keep potential clients coming back again and again with interesting pictures, posts, local news, community features, new listings, and more. For added engagement, make your posts interactive and time them to coincide with high-traffic hours.
Quality Imagery– digital photography and videography can capture phenomenal images. Investing in a professional videographer and photographer to showcase the very best of your listings is worth it. Almost all home buyers begin their searches online, and nothing will prompt them to swipe past faster than grainy or poorly lit pictures. .
Keep it local– pique buyers' interest in the local community with images of historic sites, popular attractions, and beautiful spaces. This has the added benefit of showing your community connections and lets buyers know all they have to look forward to in their new hometown.
Virtual tours– providing the option to tour your listings virtually dramatically expands your pool of potential buyers. Opt to film a professional video that can be loaded on your website or YouTube channel or meet with clients in real-time via Zoom or Skype.
Scrutinize competition– who are the top real estate agents in your area? Study their online presence and marketing approach and glean some strategies that can help you improve. As you look at what IS being done, also make note of what is not. Could you offer a one-of-a-kind service no one else has thought of? What sets you apart from the competition? Use the insights you gain to build your brand.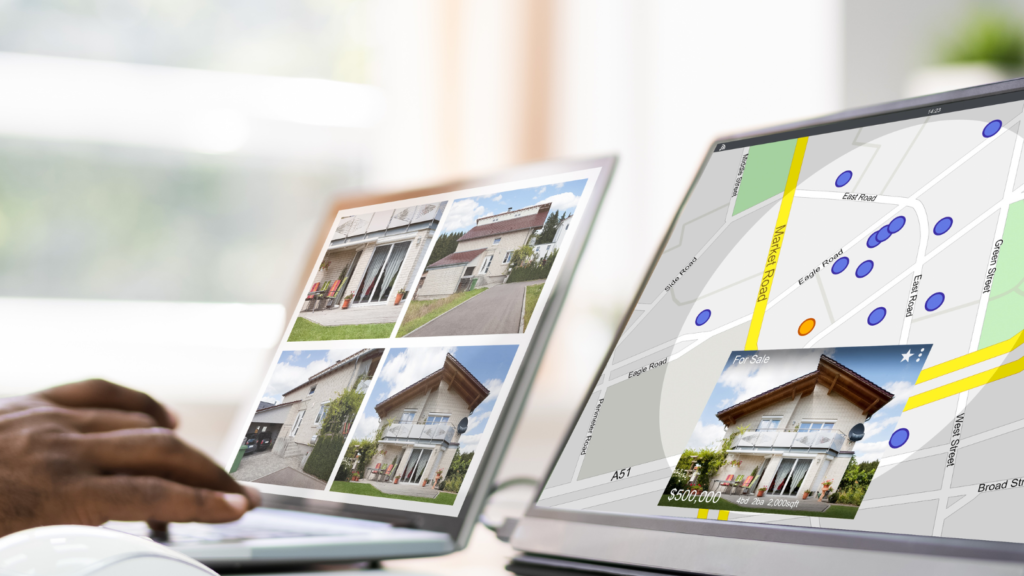 A Game-changing Real Estate Marketing Tool
Effective marketing requires two fundamental things from the real estate agent: know your product and know your customer.
We're thrilled to tell you about Title Toolbox, an incredible website, and app that will enable you to level up your real estate marketing and turn you into an industry expert overnight. And, its user-friendly format will put all the data you need right at your fingertips. With it, you'll have up-to-date insights into communities, sales records, property ownership data and history, and more.
Title Toolbox will even provide you with homeowner profiles. Are the homeowners a young married couple? When they decide to add children into their families, they're likely to want a larger home. Find an empty nester or retiree? They are likely to be interested in vacation properties or downsizing. Knowing your potential clients and their needs will enable you to personalize your marketing strategy, thereby improving your business.
From First Impression to Lasting Ones
If strategic marketing makes a great first impression and helps you procure customers, a successful experience at the closing table will earn you lasting loyalty. At Trustworthy Title, we'd like to work alongside you to achieve that client loyalty, and we'd like the opportunity to earn yours as well. Give us a call today.