Waiting for those final steps to happen so you can finally move into, or out of, your home is a unique kind of torture. You worked through the crazy process of locating or listing your home, negotiating a deal, and managing contingency concerns. Once the deal is finally done, it is time to wait for all of the "paperwork" to get processed. Banking experts, title company staff, and attorneys have taken the place of working with home inspectors and appraisers. Every step along the way, although stressful at the time, has finally got you to this day, closing day! This is the day you can finally move on to the next phase of your life. While you have done most of the hard work, here are a few things to get prepared for on your closing day.
Have Your Required Items Together
The excitement of the closing day is real. It is so easy to simply want to get there and have this all behind you. Preparing yourself and all of the required items you need for closing will ensure that everything goes smoothly. Whether you are the buyer or the seller, there are certain items you must bring with you to the closing. Without these items, the closing may be delayed. It's a good idea to confirm information with your real estate agent, bank, or title company as to the specific details, but here are a few things you will likely need.
Buyers
Photo Identification
Cashier's Check
Personal Check
Proof of Homeowners Insurance
Any outstanding paperwork
Sellers
Photo Identification
Keys or Passcodes to the Home
Personal Check
Any outstanding paperwork
Complete a Final Walk-Through
It is common for buyers to only see their home once or twice before the closing process begins. The home is also likely full of the personal belongings of the buyer and can be challenging to see it as your own. The final walk-through process is something sellers will need to be prepared for and sellers should not skip. It is the last opportunity to negotiate any damage that may have occurred during the time of the closing process or discuss any cleaning requirements. While it is extremely uncommon, representing only 5% of real estate deals, the final walk-through could end a deal. Preparing for the final walk-through is simple but here are a few things to do to ensure everything goes smoothly.
Buyers
Establish your expectations around left-behind items from the seller.

Create a quick list of areas in the home to review.
Open closet doors and appliances

Take note of how clean the home is and photograph any areas not up to contract expectations.
Any major concerns or issues should immediately be reported to the seller.
Sellers
Take a walk around the home and make certain all of your items have been removed except those previously negotiated.
The home should be cleaned either by you or a professional service.
Any damage done during the moving process should be fixed or identified for the buyer.
Bring Your Reading Glasses
There is a lot of paperwork that must be reviewed and signed during the closing process. Some of the information may have been given to you before the meeting, but there may remain documents you have not seen yet. Take your time and review these documents before signing them and address any issues or discrepancies before you sign. Since the documents are prepared by people, and people sometimes make mistakes, it's a good idea to read everything. Spend the extra time reviewing the spelling of names on all closing documents and deeds. It is better to address these now than to deal with them down the road. Review the numbers for accuracy and again, make note of any issues and have the corrections made before signing. Once everything is in good order, take out your favorite pen and start signing.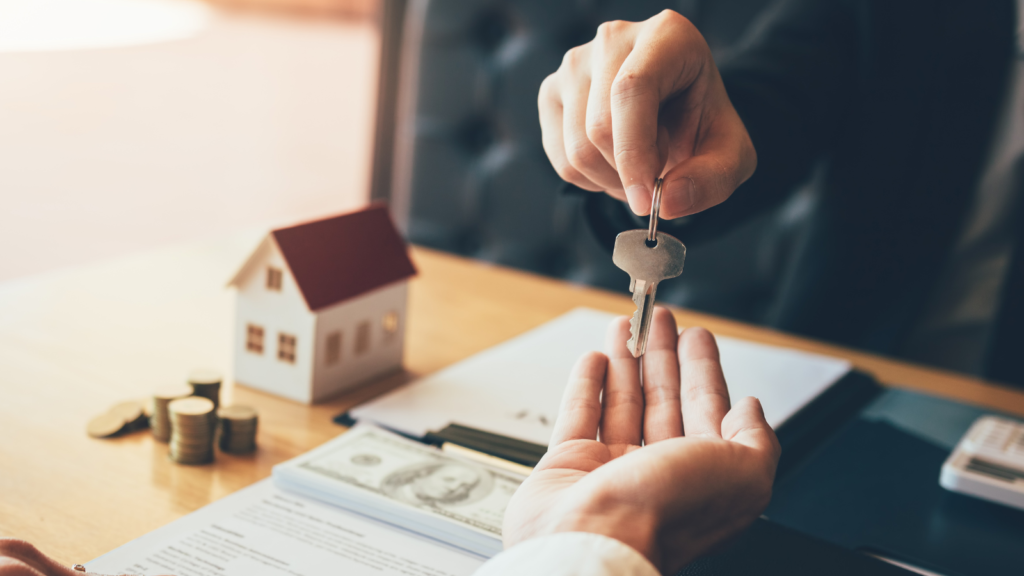 Settle Up Closing Costs
During the initial negotiations of the real estate deal, closing costs should have been defined. These will be outlined in your sales contract. Every deal is different, and, in some instances, there are closing costs associated with both the buyer and seller. Other times, one party covers all closing costs. A closing disclosure document must be delivered to both the buyer and seller at least three days before the closing. This document will outline the exact amount each party is responsible for. When you come to the closing, be prepared with either cashier's checks or personal checks to make these payments. Credit cards are typically not accepted during this process. You should also make certain that any transfers of money between bank accounts are completed well in advance of closing so there are available funds to cover any personal checks written.
Shake Hands and Exchange Keys
You don't really have to shake hands, but once all of the paperwork is completed and ready to go, you can officially move on to your new life. That feeling of satisfaction may have you wanting to show some sign of appreciation to everyone involved in the deal. The seller of the home will hand their keys over to the new owners and walk away from their home. The buyer then officially owns the home and uses those keys to go exploring the details of their new space.
Omaha title companies are a large part of the closing process. If you need someone to help you get to the final day of closing, Trustworthy Title's experts are available for you.